JIM'S LATEST ENDEAVOR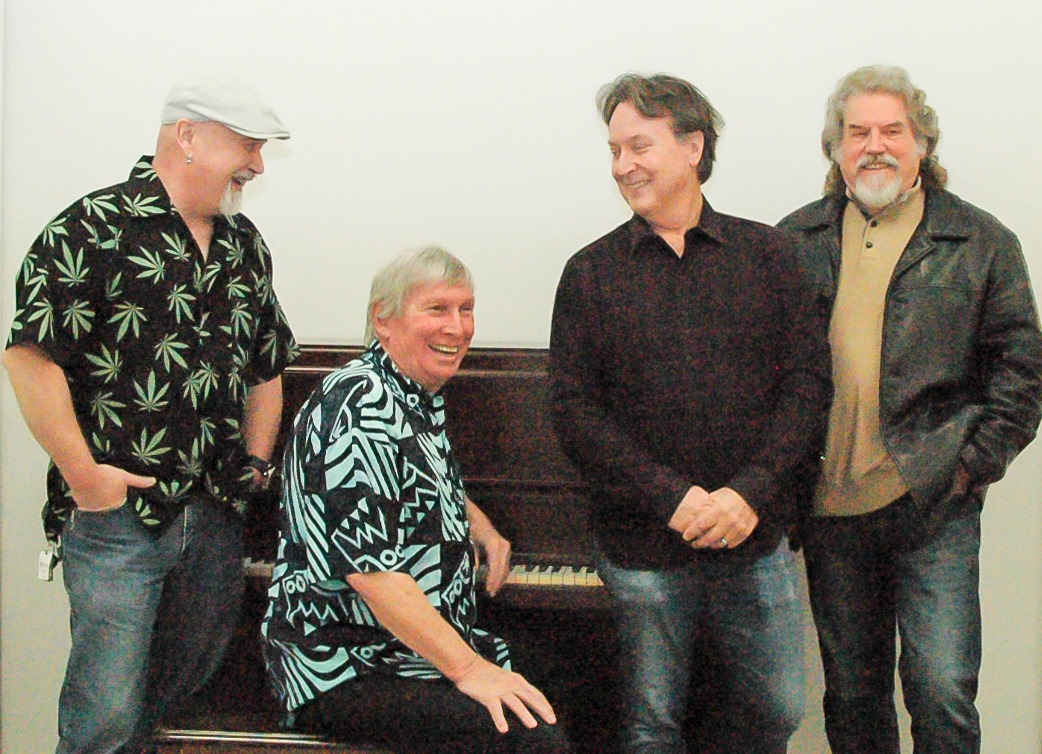 For over three decades, Jim Valley has mostly been engaged in solo projects, albums, children's workshops, speaking engagements, etc. There were occasional exceptions when he would gather "the Rainbow Revue" band for a more elaborate children's music performance, or when he would guest with groups like the Kingsmen, the Daily Flash, or an all-star tribute band such as was put together in March of 2017 to celebrate the life and music of Buck Ornsby, a fellow Northwest music icon and member of the Fabulous Wailers. It was that very tribute concert that inspired Jim to, at long last, form another band.
He brought together bassist Billy Odden, drummer Jamie LeMessurier and guitarist, singer-songwriter Russ Salton to form the Jim Valley Project. Later Jamie elected to take a break, and was replaced by Billy (Pocket) Barner.
Soon the band was out playing live to enthusiastic audiences and packed houses. The group performs Jim's originals, including many drawn from his album "Rolling Sea," as well as some of those "kid's songs" that were always a lot more sophisticated than young listeners suspected. Russ Salton also adds original songs. The Project has an eclectic, danceable batch of cover tunes: from the Raiders to Jerry Lee Lewis to Roy Orbison to the Beatles to the Band, even Elton John, Dire Straits and Stevie Ray Vaughan. All members of the band have numbers on which to sing lead and showcase their topnotch vocal abilities, and the four part harmonies made numberous apperances. In addition, for the first time since Vince Valley and his Chain Gang, Jim's very first band way back in the 1950s, he is able to showcase his outstanding keyboard playing, as Russ handles most of the guitar duties.

Musical highlights of the Jim Valley Project at Wurlitzer Manor.
The Jim Valley Project held a very special performance in September, 2019, at the Wurlitzer Manor in Gig Harbor, WA. It would the largest crowd the Project had played for heretofore, and it would be filmed by a professional camera and sound crew. The show went off flawlessly, and the concert video is now on YouTube for posterity.
Who knows where it will lead? The band seems to have the attitude of "Who Cares?" Just like in the old days, they are just having fun, and that's all that really matters.
REVIEWS:
The Jim Valley Band is an act hard to beat. Incredible musicianship and the genuine love for storytelling and entertaining is apparent in every aspect of this group. They have cultivated a sound that triggers a joyful nostalgia, reminiscent of melodies from a time before ours. Jim Valley, frontman, has his own unique story to share - playing live with Paul Revere and the Raiders and being broadcast on national television he has experienced a whole world of music many of us can only dream to have lived. Their set includes 60's and 70's classics that never get old as well as several of Jim's original tunes you can only hear live. The Jim Valley Band is profound and special, they will leave you with a smile on your face, songs in your head, and a memory to not be forgotten.
-- Maddy Dullum, Kimball Coffeehouse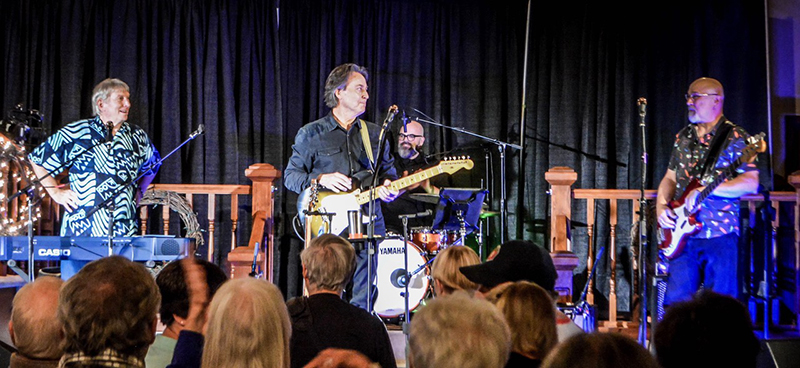 The Jim Valley Project at Wurlitzer Manor.