A SAGA OF ROCK, ROLL... AND RAINBOWS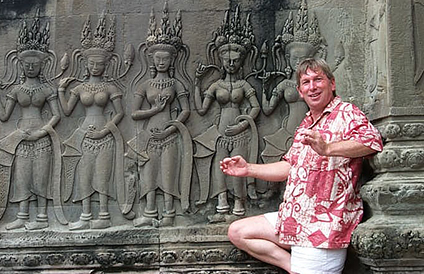 Jim Valley... singer, songwriter, musician, rock and roller, teen idol, television star, philosopher, educator, adventurer, world traveler, storybook hero, father, grandfather, friend, gardener, lover of life... has been around the block a time or two on his magical, mystical journey upon Planet Earth.... or the Rainbow Planet as he refers to it. Life becomes for most what they would will it to be. For many that would be a road of straight and narrow through a black and white universe. Jim has taken a long and winding road, through hill and dale, up and over peaks and valleys, discovering different realities along the way, in all of their color, all of their magic.
Though he has covered a lot of ground through times of joy and tribulation, Jim has always sung a song as he walked softly along that winding pathway that has circled around the globe. Songs of love, hope, friendship, ecology and celebration of the art of living. He has been sharing those songs with whoever would listen. Those who have stopped for just a moment upon their hurried way to listen to Jim's music have been rewarded with sprinkles of magic themselves. That is the effect of the music and the company of Jim Valley. He's a one-of-a-kind rainbow wanderer.
You can learn all you really need to know about Jim through his music. But for friends and well-wishers, here is his story.
Download or stream Jim's music on Spotify, iTunes, Google Music, Amazon Music or your favorite service.

Please subscribe to Jim's YouTube Channel

Early Days
James George Valley was born March 13, 1943 in Tacoma, Washington. Jim grew up in Seattle and at an early age fell in love with art, music, song and dance. Both his mom and dad as well as his grandparents played the piano, and singing was a natural pasttime at home as well as in the family car. In the third grade, Jim won an art scholarship to the Frye Art Museum for young gifted students. During his fourth grade year, Jim learned to play the trumpet and had fantasies of becoming Harry James.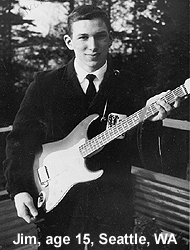 In 1955, when Jim was in the seventh grade...Rock n Roll was born! Jim would race home to listen to the Top Forty...Bill Haley & the Comets.. "Rock Around the Clock".. Little Richard... Buddy Holly... Fats Domino... Chuck Berry... The Platters... Frankie Lymon... "Why do Fools Fall in Love"!!!! The Bop was the first Rock n Roll dance craze, jitterbug like. So dancing to Rock n Roll became his first experience with the genre, entering dance contests with his dance partner and sometimes winning.
In his ninth grade year at Jane Addams Jr. High School, Jim learned to play the piano by ear from some choir mates who had begun to compose their own songs. He composed a simple Doo-Wop type song for one of these, Cassie Kenyon. The song was titled Cassandra. When his next door neighbor heard the song, it was decided Jim should form a band and make a record. The neighbor, Curt Pearson, knew a fellow, Greg Thompson, who had just received a set of drums for his birthday, and knew a friend who had an old acoustic guitar in his house. The guitar was his dad's; it lived in the attic, missing at least one string and the guy, Dick Enders, didn't even know how to tune it! Then another friend of Curt's, Fred Rucker, was actually a hot saxophone player.
So the three "musicians" arrive at Jim's house a few weeks later to form a "Rock n Roll Band," with Jim on piano. Soon thereafter Jim realized the "band" now called Vince Valley and his Chain Gang needed a real electric guiartist. In those days Jim had never seen an electric guitar in anyone's house, much less knowing someone who could actually play. So Jim, having a summer job in his dad's laundry, decided to buy an electric guitar and become the band's guitarist.
The Viceroys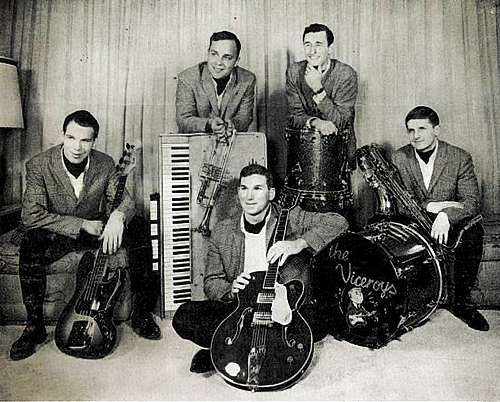 This brings us to the fall of 1958 when Jim is a sophomore at Shoreline High School. He meets Al Berry, who will become the band's piano player, and also Bud Potter, whose folks will buy him an electric bass if Jim will teach him. No problem! After "playing" guitar for two months, Jim teaches Bud to play the bass. With the addition of Fred Zeufeldt on drums and Mike Rogers on sax, the band becomes The Viceroys. The following spring, the Viceroys play their first dance... earning $60... they had arrived. For the next four years, the Viceroys would become one of Seattle's most popular bands, playing school dances around the area. Singers in the Viceroys included Jim and vocalists Jimmy Pipkins and Aaron Stewart.
Then in the spring of 1963, the band recorded an instrumental, written by Al Berry, called Granny's Pad, which became a huge Northwest hit on the Seafair/Bolo label. The song was covered by many of the area bands including a little known group in Boise, Idaho called Paul Revere and the Raiders.

The Viceroys play Granny's Pad... and Goin' Back to Granny's.
The Viceroys now become one of the "in demand" bands in the Northwest, along with the Wailers, the Frantics, Little Bill and the Bluenotes, the Dynamics, Tiny Tony and the Stactics featuring Merelee Rush. Seattle radio stations promoted dances featuring these "famous Northwest groups" Pat O'Day and Dick Curtiss, two enterprising DJs from KJR radio, also began presenting once or twice a year, Rock n Roll concerts at the Seattle Opera House, featuring national recording stars like The Beachboys, Roy Orbison and Little Stevie Wonder.
It was at one of these "Calvacade of Stars" that the Viceroys were asked to perform, and also to back the other artists who didn't accompany themselves. On this particular show, the lineup of artists included the Beachboys, Little Stevie Wonder, Little Eva (Locomotion) April Stevens and Nino Temple, Ray Stevens (Ahab the Arab). Stevie Wonder was to have his own band, so the Viceroys didn't rehearse his songs. When the rehearsals began with the recording artists that morning at the Opera House, it was learned that Stevie Wonder had arrived with just his drummer. His manager took one look at the Viceroys... and decided he would find another Seattle band to do the job.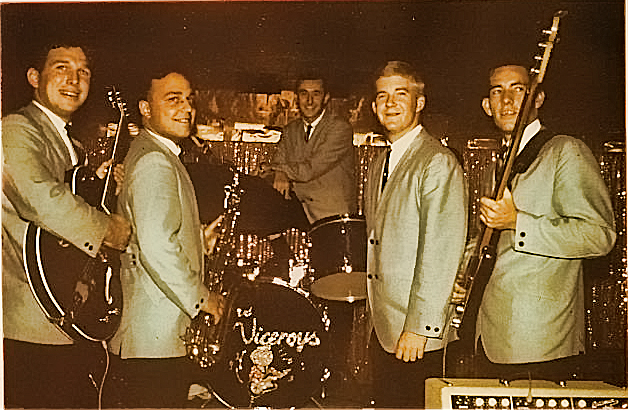 The Viceroys: Jim Valley, Mike Rogers, Fred Zeufeldt, Al Berry, Bud Potter.

The concert began, and right before the intermission, the Beachboys took the stage. Pandemonium, they were incredible. Wow, excitement, screaming teenagers like Jim had never seen before. A prelude to Beatlemania. Jim's eyes spun like Mr. Toad's! Maybe someday Jim could be in a group like that. Intermission. Meanwhlie, Stevie Wonder appears backstage with only his drummer and a couple of horn players... but it turns out the manager did not find "another" Seattle band to back Stevie up. So the Viceroys would back the new star without a minute's rehearsal... Finger Tips..Part One & Two.... two chords.. Hallelujah by Ray Charles, a song the Viceroys played and one other tune... It worked!!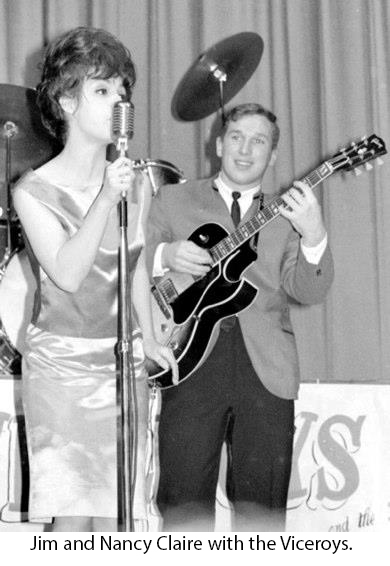 Early in 1964, the Viceroys are booked at The Pypo Club in Seaside, Oregon where they are told they'll probably have a crowd of 800. But that night, only around 80 kids show up. What the heck? It turned out that ten miles away a new group was stealing the night...Paul Revere and the Raiders, wild and crazy, three cornered hats, HOT!!!
The next month the Raiders are booked to play at the Spanish Castle, a 1930's era dance hall in Seattle, where the other band is the Viceroys. By this time most bands in the Northwest were fairly tame, a few steps, like an rhythm and blues band... but Paul Revere and the Raiders knocked everyone's socks off! Mark Lindsay's vocals, amazing routines by guitarist Drake Levin and bassist Doc Holiday, the unique magic drumming of Michael "Smitty" Smith, and of course the wild humor of Paul Revere himself! Jim's eyes spun around again! "If you ever need a guitar player, give me a call," was Jim's comment to Paul that night. The Viceroys would play many dances with the Raiders the next few years, but a call from Paul Revere did not come.
In the winter of 1964, the Viceroys landed a four week gig at the Peppermint Tree in San Francisco's North Beach, with the help of the Raiders. By this time the Viceroys were a four piece band with a very talented vocalist by the name of Nancy Claire. The repertoire was R&B with sprinklings of Jazz. It was at this time Jim decided he wanted to be in a group that was a bit wilder... sort of like PR & the R's.
Don & The Goodtimes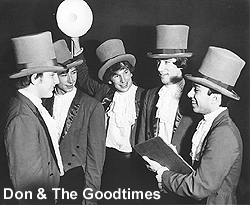 In 1965, a new group from Portland entered the Pacific Northwest dance scene... Don and the Goodtimes... thought to be even crazier than PR & the R's. They wore top hats and tails! Jim went to check them out. Don Gallucci, the former organist with the Kingsmen was the leader, while Don McKinney, the lead vocalist was the Marx Brother-Mick Jagger like soul singer. Bob Holden's throbbing drumming, as well as Dave Child's funky bass lines, made a very positive impression with Jim. That evening their manager asked Jim if he knew any guitar players that sang. "I'll let you know," Jim replied.

Don & The Goodtimes play Little Sally Tease.
That night Jim couldn't seem to fall asleep and in the morning called Don & the Goodtimes to say he had found a singing guitarist for them... one Jim Valley. He would leave the security and the popularity of the Viceroys to join the new group. Jim became the co-lead singer with Don McKinney and wrote a song for them called Little Sally Tease. Sally was a hit and propelled Don & the Goodtimes into a Northwest legend. Little Sally Tease is included in the "Greatest Hits" collections of Goodtimes, the Kingsmen and the Standells. A more recent punk/garage version the song was also recorded by Tom Dyer's New Pagan Gods. You can listen to all four versions of this Northwest rock and roll classic on your favorite download or streaming service.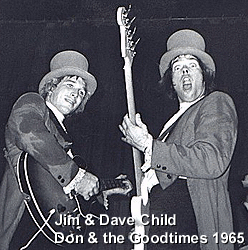 The Goodtimes were signed by Dunhill records to be produced by Steve Barri and PF Sloan. The group appeared on "The Lloyd Thaxton Show" and "Hollywood A'GoGo" and played one night at the Whiskey AGoGo, where the house band was Frank Zappa and the Mothers of Invention. While they had made quite an impact on the Northwest dance scene, the Goodtimes seemed to be always just a step away from any national recognition.
Paul Revere & The Raiders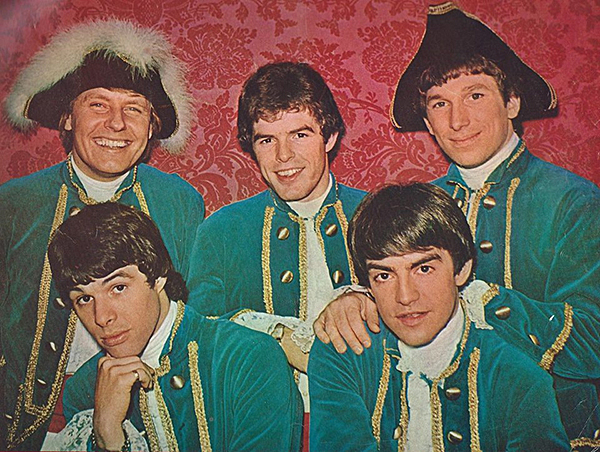 A year after joining Don & the Goodtimes, Jim's long-awaited call from Paul Revere finally came. The Raiders guitar player, Drake Levin, was joining the National Guard (to keep from being drafted... this was the era when the Vietnam War was heating up). Faced with this dilemma, Revere remembered the Viceroys and Goodtimes guitar player, singer, songwriter from back in their Northwest days, and called to asked Jim to take Drake's place... temporarily... until Drake was able to return. Jim played hard to get, and drove a hard bargain. He would not leave the Goodtimes for a temp position with the Raiders. He also wanted the group to record some of his original songs. Revere quickly agreed, after all this was the guy who wrote that big Northwest hit, Little Sally Tease. And so, Jim would trade his top hat and tails for a Revolutionary War uniform and tri-corn. He was now a Raider! All of Jim's dreams seemed to be coming true.

Paul Revere and the Raiders - Harpo's Magic Horn and More Shenanigans.
In keeping with the group promoting easy-to-remember single names for its members... Paul (Revere) on organ, Mark (Lindsay) as lead vocalist and sax man, "Smitty" (Mike Smith) on drums, and "Fang" (Phil Volk) on bass and vocals, Revere dubbed Jim Valley "Harpo," for his rather vague similarity to the famous Marx Brother. Indeed, in the year 1966, there were only three groups from which the average American teenage rock n roll fan could name all the members: the Beatles, the Monkees and the Raiders. Jim was given a horn, just like the original Harpo carried, and encouraged to play a similar stage role: a man of few words but zany behavior, ever tooting his horn. This is the personna that millions of fans would see daily as the Raiders became the "house band" on Dick Clark's "Where the Action Is" television show.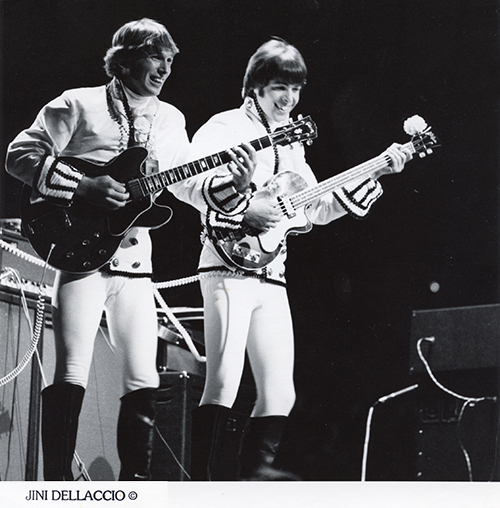 By the time Jim joined the Raiders in 1966, the group already had to their credit several national hits, such as Steppin' Out and Just Like Me. They barely missed having a monster hit with the song Louie, Louie, a song originally by the Wailers, which subsequently both the Raiders and the Kinsgmen recorded... in the same studio (in Portland, Oregon)... in the same week! The Raiders' version was the bigger regional hit, but their label, Columbia Records, failed to promote it nationally. The Kingsmen's label didn't make the same mistake... and theirs was the version that took off and became legendary. With Jim in the band, the Raider hits kept coming: Kicks, Hungry, Good Thing, Great Airplane Strike, Ups and Downs and Him or Me.
Then there was the matter of playing live. The first Raider tour that included Jim as a member, March 1966, also included Jim's former band, the Viceroys as the backup/roadie band. That tour also included Gary Lewis and the Playboys and the "Where the Action Is" dancers.

The Raiders appear on "The Smother's Brothers Show," playing Ups and Downs.
During the next year, the Raiders would perform for thousands of teen-age concert goers, as well being portrayed in hundreds of fan magazine stories and pictures, like 16 Magazine and Tiger Beat. In addition to "Where The Action Is," the Rainders also appeared on "The Smother's Brother Comedy Hour," "The Hollywood Palace," "The Milton Berle Show," "The Lloyd Thaxton Show" and other national TV shows of the era. They were even featured on the 1960s TV series "Batman," playing a gig for the Penguin! Indeed, Paul Revere and the Raiders hold the television appearance record for a rock n roll band, with over 700 performances.
The daily life of the group consisted of constant touring, which would be the most peaceful of the hectic schedule. After the concerts, many evenings would find Harpo, Fang and Smitty sharing their original songs with each other, playing tricks and presenting skits. When the group was home in Los Angeles, a normal day would begin at seven AM, filming Dick Clark's "Where the Action Is," then a small lunch break and on to several photo shoots for the fan magazines. The early evening would find the Raiders recording at Columbia Records studios into the wee hours of the next morning with their producer Terry Melcher, who also produced the Byrds.
Another group Terry produced was called the Gentle Soul, and they became Jim's pals and mentors. Their music was lyrical, melodic and meaningful, with beautiful harmonies. Pamela Polland, around whom the group was formed, was also the hub of many Los Angeles songwriters and artists. Other members of the Gentle Soul were Rick Stanley, Riley Wildflower and Sandy Konikoff. Riley and Sandy became Jim's best buds. The Gentle Soul House in Laurel Canyon became the gathering place for so many creative, magic and adventurous souls. Jim met Jackson Browne one afternoon there, and listening to him sing his songs would inspire and influence the way Jim perceived music. Jackson was eighteen years old at that time.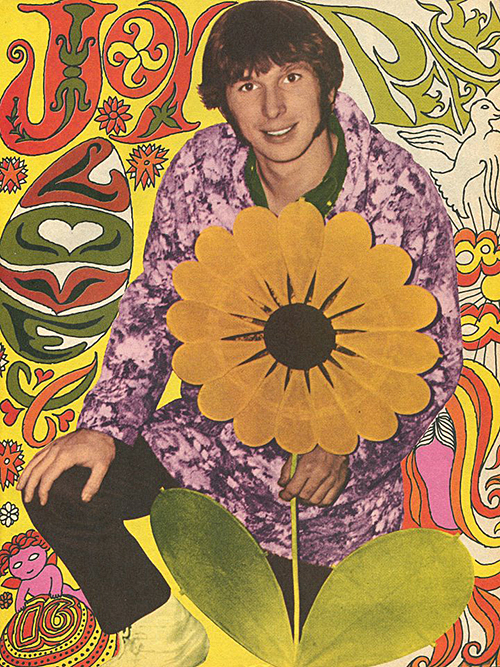 It was truly a magic year for Jim, like five years rolled into one! Definitely a dream come true! But in 1967, twelve months almost to the day that Jim joined the Raiders... he departed! The promised recordings of his songs never happened, nor was Jim even given the chance to sing lead on a Raider record release, a huge disappointment that would be lead to his decision to leave the group. Within a few months, two other Raiders would opt to leave the group. Phil "Fang" Volk and Michael "Smitty" Smith formed a group called the Brotherhood with former Raider guitarist Drake Levin. Paul Revere and the Raiders would continue on, with an ever-shifting lineup. They would score their first No. 1 hit in 1971 with Indian Reservation. The group would continue to perform for deacdes to come.
Going Solo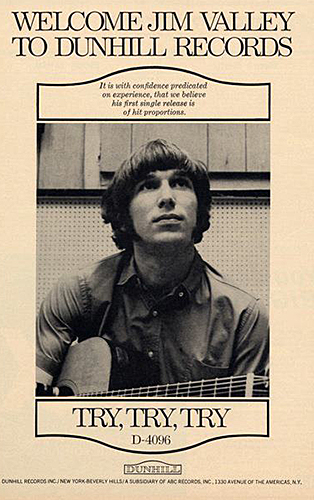 During Jim's stay with the Raiders, there were many influences that found a place on his musical journey. A group called The Lamp of Childhood were writing and recording songs similar to The Lovin' Spoonful and The Mamas and Papas. The Lamp had asked Jim to join their group and become one of their singer/songwriters... something that had not happened in the Raiders. They were produced by Gabriel Meckler, who would later produce some of Jim's recordings as well as Steppenwolf, Three Dog Night and Janis Joplin.
It was a tempting offer, but Jim opted instead to embark on a solo career, and signed with Dunhill Records, the same label that had signed the Goodtimes. Before he would actually record with Dunhill, he met a creative singer/sonwriter/producer by the name of Curt Boetcher and recorded three Jim Valley songs... Try Try Try, There is Love and Now. Dunhill heard them and decided to re-record Try Try Try with the Mamas and Papas' back up band (basically the famous "Wrecking Crew"). It was released as a single, and made it to No. 106 on the Billboard charts. Another Valley original, Maintain, was subsequently released, but hardly made a stir.

Jim Valley's biggest shot at fame and fortune was the single Try, Try, Try.
In September of 1968 Jim spent a few months in Big Sur, California getting close to nature and began composing songs for an album titled, "Walking Through the Quiet". The songs were more folksy than rock 'n roll. Dunhill Records considered it not commercial enough, and never released the album. It was a "learning experience".
During these Raider and Solo days in California, Jim was smack in the middle of the Laurel Canyon scene, now remembered as a halcyon period of American popular music. So much talent, such great music, and the quintessential 1960s optimism and waves of generosity and love swirling through that small enclave in Los Angeles. It truly was a remarkable era. But it was not to last... for the scene, or for Jim. The mood in the L.A. canyons, and across the country, would darken as the Vietnam War, ever more violently, dragged on, assassinations shocked the nation, Richard Nixon was elected president, and the spirit of the Summer of Love dissolved into disenchantment. Jim had lived the California rock n roll dream, but as the Sixties dwindled to their final months, he felt drawn back to his homeland.
Back to the Sound... Temporarily
In the Fall of 1969 Jim returned home to Washington state and his old Puget Sound stomping grounds. While working for the railroad for a year, he settled into family life with his wife and two daughters, Vicki and Jamie. In July of 1970, Jim's son was born.., Timothy Bananas... who, when he was five years old, would compose the words for one of Jim's most popular children's songs... I Broke my Bo-Wo-Wones in Louisiana, featured on the album "Rainbow Planet," 1983.
The Seventies found Jim trying to live the songs he was writing, or maybe it was vice-versa. Singing for kids in a hospital in Seattle evolved into singing for teenage church groups. In 1971, Light Records released a Jim Valley album titled, "Family" along with an accompanying two-part choir book. By 1972 the rock 'n roll bug had bitten again and Jim formed a new group called "Sweet Talkin' Jones" with some former Northwest rockers, including Andy Parypa of the Sonics and Greg Beck from the Viceroys. At this point Jim was playing keyboards and guitar. The group mainly played club dates in the Seattle area... some classic rock 'n roll, music by the Band, Van Morrison, Beatles, Stones and some of Jim's compositions. In 1974 Jim left the group and performed as a duo with Greg Beck who was the guitarist that replaced Jim in the Viceroys in 1965.
1974 found Jim starting another band called The Shoestring Orchestra and Choir, sort of like "A Grateful Dead" of the Seattle area. Three songwriters... Jim, Marc Willett and Don Wilhelm. Jerden Records released a single Jim had written called Rabbits in the Park in late 1974. Even though the record disappeared... the creative energy between Willett, Valley and Wilhelm would continue for decades... into present time. Willett and Wilhelm recorded with Jim on his "Rainbow Planet" children's albums from the Eighties and Nineties. Also they play with Jim on "Rolling Sea."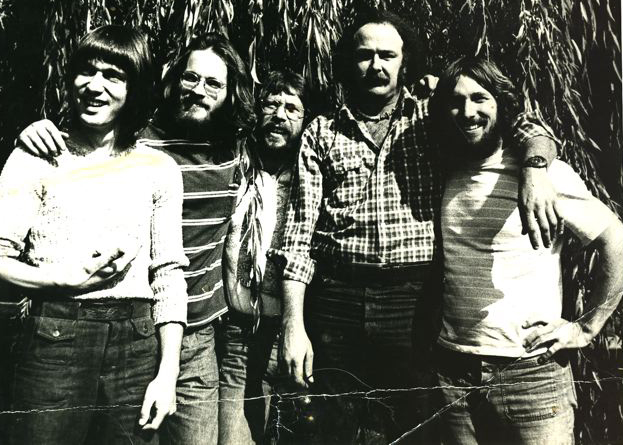 The Shoestring Orchestra & Choir.
Back to California...
During 1975 Jim moved to San Diego where he began work on a musical play about the Children's Crusade of the twelfth century in France. He became the musical director as well as part of the ensemble. "It was the most incredible cooperative creative experience of my life," Jim reports. One of the songs, If I Were a Bird was later recorded for Jim's "Dinosaur Ride" album in 1989.
... And Jim's Introduction to World Travel
The summer of 1977 found Jim street performing in Europe with his partner at the time, Gretchen Vanderslice. They landed in Amsterdam and traveled to England, Scotland, France, Switzerland, Italy, Greece, Austria and Germany. The song Street Dancer was composed during that period and is included on "Rolling Sea." There was something about this world travel that Jim really, really liked. He didn't know it at the time, but this trip was just the start of many grand adventures Jim would have in foreign lands and with "friends around the world."

Street Dancer, from the album "Rolling Sea" describes Jim's first European adventure.
Back to the Sound... For Good
In 1978 Jim moved back again to the Seattle area where he began work on a new album titled "Dance Inside Your Heart". It was released on First American Records which turned out to be a "tax shelter," another learning experience. Yet "Dance Inside Your Heart" showcased Jim's ever-improving vocal and songwriter skills. Stylistically, songs like Walking High: The Mountain directly point the way toward more amazing music Jim was about to produce.
Cowgirls heralds a new sound for Jim Valley.
Rainbow Planet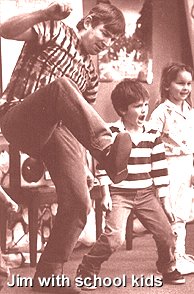 It was time for Jim's life to change. In 1979 Jim was invited to help children in the Gifted Program in Tacoma Schools to express themselves through song writing and singing. This program lasted two years and found Jim directing as he called them... "high school rock 'n roll choirs" as well as working with elementary school children in song and dance. The Tacoma newspaper called Jim, "the Pied Piper of School Town". Because of that article, Jim was invited to create a "friendship workshop" for a troubled elementary school using song writing, singing, dance and cooperative art. Jim was asked to create a song which would help children learn to get along. That song became Rainbow Planet and started Jim's career in helping children all over the world to open up and express themselves through music, dance and art.
Jim recorded his first children's album in 1983, titled "Rainbow Planet" and received the "Parent's Choice" award. Later albums included "Friendship Train" (1986), "McFiddle DeeDee" (1987), "Dinosaur Ride" (1989). In 1996, Jim released "We Have a Dream (Friends around the World)." If there has ever been a children's music masterpiece, this is it. In 2004, Jim released "Rainbow Garden: Children of the Same World," and "Rainbow Dreams: The Lullaby Collection" came out in 2009.

Culturality: One of the best of Jim's "children's" songs.
Thousands of school children have witnessed the magic of Jim Valley as he has taken his music to over forty countries, bringing a message of friendship, nature, imagination and fun! Countries include South America, China, Egypt, India, France, Africa, Indonesia and Saudi Arabia, as well as schools all over the U.S.
Jim has been published by the Wright Group (1996) in a series of "Rainbow Planet Big Books" that help children learn to read as well as feel good about themselves. Also Warner Brothers published an illustrated songbook and a musical play, "Wishes Come True...The Secrets of the Rainbow Planet" (1998)

Rainbow Planet: The greatest job in the world.
For much more about Jim's children's workshops and music, visit the official Rainbow Planet website.
Rolling Sea
Although known as a "children's musical artist" to many, if not most, of his contemporary fans, in reality all of Jim's "children's" albums contain songs that adults can dig. Not wanting to be typecast as strictly a children's artist, in 2002, Jim took a short break from student workshops and found time to record and release a stunning adult contemporary album entitled, "Rolling Sea." This collection contains some of Jim Valley's very best songs, and show how far he has evolved as a singer-songwriter since those long ago days of Cassandra and Little Sally Tease.

"Rolling Sea," Jim's finest album... so far.
... And Into the Future
Jim is still playing live, still bringing Rainbow Planet magic to the kids of the world in schools and assemblies, and continuing on as part of the Pacific Northwest original music scene as a solo performer and with his current band, the Jim Valley Project. Jim has also recently released two new albums, "A Garden Faire" in 2020, and "Sit Upon the Moon" in 2021.

A long and winding road from Cassandra to the Jim Valley Project.
There is a saying in India..."the universe respects me when I work, but it loves me when I sing." Jim says, "It's true! and futhermore...keep a song in your heart, laughter near your toes, don't forget to write, ask lots of questions and plant some flowers."
Besides creating music for young and old, Jim enjoys working in his flower garden, going for walks, sailing, gathering his friends together for Hobbit-like parties of singing, laughter and dance, reading good books and spending time with his family, which includes seven grandchildren. Jim lives in Gig Harbor, Washington with his partner, Wendy, whom he met in junior high school. They live in a quaint "cabin castle" on Puget Sound where today...the sun is shining and the flowers are smiling!!!
What a life. What a story. What a soul. And now you know.
And there's more! If you want to learn about Jim's latest adventure, the Jim Valley Project... Click Here.
Wonderful article on Jim from WestSound Home & Garden Magazine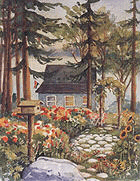 Actual photo of Jim's house on Puget Sound